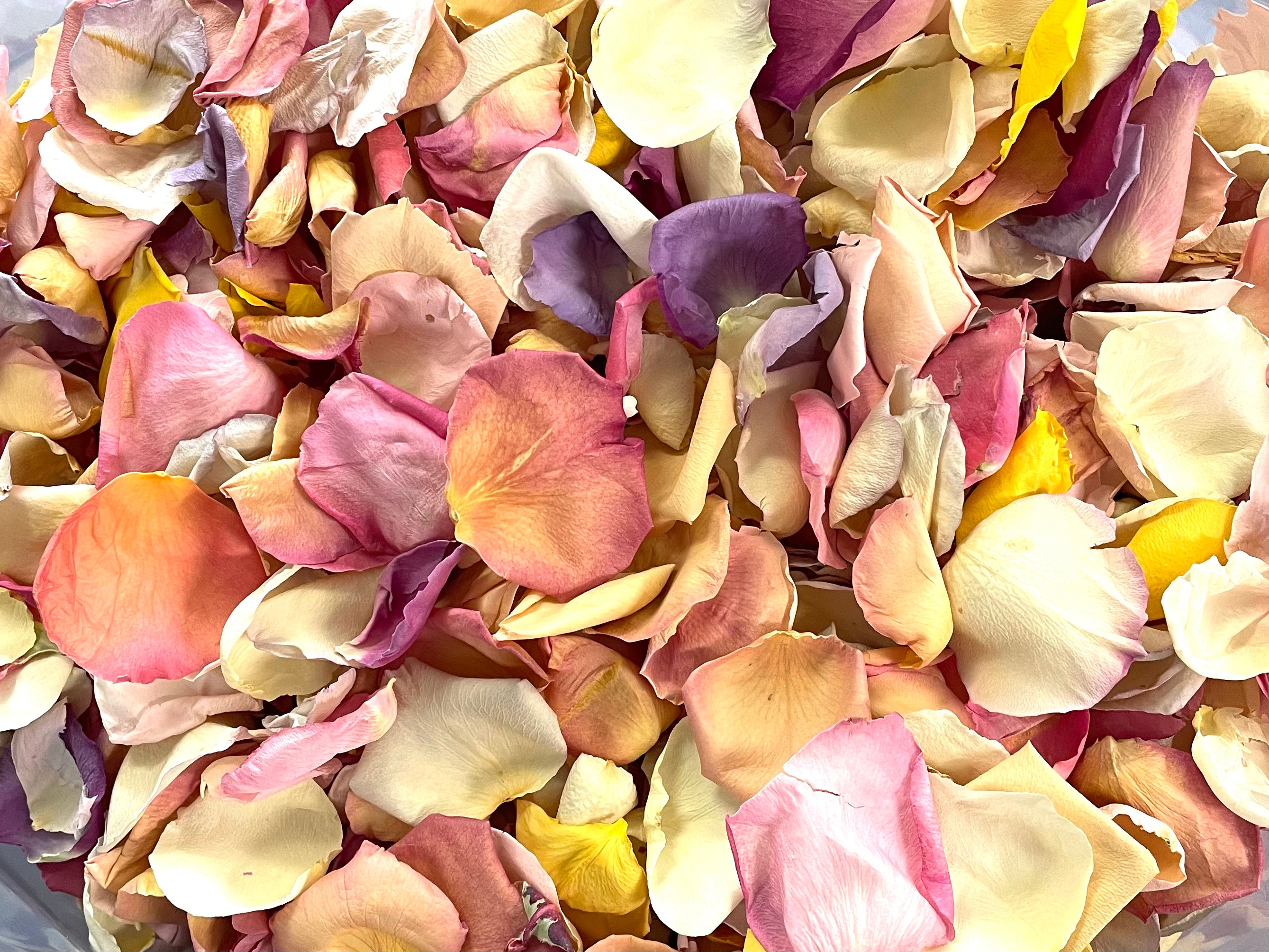 Rose Petals, Light Colors, Real Freeze Dried Bulk Budget Petals, 100 cups
Description
Quantity Guide
Order Timing
Our blend of light colors of rose petals in our Budget selection typically contains ivory, blush, pink, yellow, lavender, and similar shades. No two blends are the same, but they always have an assortment of colors.
During both the "petaling" and packing processes, we carefully sort out the petals that have imperfections. The petals could have rips or cracks in them, or color variation from the freeze drying process. In addition to small inner petals and greenish guard petals, these make up what we call Bulk Budget Petals. Also, once our premium petals have been stored past their prime, we move them to our Pathway and Budget selections. While we don't recommend them for table decoration, they are ideal for aisles, where you need a lot of petals. Each bag contains 100 cups of rose petals.
These REAL rose petals are preserved to last for months. Non-wilting, non-staining, and completely biodegradable, there is no better choice than our freeze dried rose petals.
Tossing: 1/2 cup to 1 cup per guest.
Table decoration: 2 to 4 cups per table with centerpiece.
Aisle, per square foot: 8 cups for dense, 4 cups for moderate, 2 cups for light, 1 cup for scattered.
Flower girl: 5 to 10 cups per flower girl.
You can order freeze dried rose petals up to 1 year in advance. If your event is within the next month, we will ship as soon as possible. If your event is over a month away, we will reserve your petals and schedule them to ship closer to your event for the best quality.
Since these petals are perfectly preserved, express shipping is usually not necessary, unless you need them in a hurry.
Rose Petals, Light Colors, Real Freeze Dried Bulk Budget Petals, 100 cups
FAQ
How may petals do I need?
We have an online calculator for the most common uses for petals at the following page:
Petal Calculator
Are the biodegradable?
Our freeze dried rose petals are all-natural and completely biodegradable, so they are perfect for outdoor use.
When should I order?
Our petals are preserved and can be stored at room temperature, so you can order in advance. We typically ship about three weeks prior to your event.
Shipping
Fast shipping
Did you forget to order rose petals? We can ship via USPS, FedEx, or UPS for fast delivery. Simply add this to your cart to see the options.
Order tracking
You can track your order every step of the way. We email you the tracking number once it ships, and you can also find the tracking in your online order status.
Get in touch
Use the Chat button at the bottom of this page and we will be glad to help. You can also email or even call, we are real people!